Summer holidays 
Wishing our pupils, staff and parents a lovely summer and see you all on Friday, September 1st, 2017.
Farewell to 6th classes 
On Friday we bade farewell to our 6th classes. We wish them well on their journey through secondary school. Good luck boys!
6th class Glenveagh Trip
Mr. Kavanagh's class have been having fun in Glenveagh.
Over 20,000 visitors to the website!
Table Tennis Finals
We had our annual table tennis finals and what a sporting occasion it was. The audience were treated to unbelievable skill and fantastic sportsmanship and well done to all who participated. The winners were Konrad Krol (4th class), Harry Dorrian (5th class) and Leon Martins de Lima (6th class). Special thanks to Paddy Delap who coached the boys on a voluntary basis every lunch time during the year. Thanks also to Mrs. Janice Daly for helping to organise the table tennis tournament.
Gaelic Football
The school Gaelic football team received special recognition today for their performances and dedication during the year. Well done to the boys and thanks to Mr. Kavanagh and Mr. McGowan for giving up lunch-times and after school to train the boys.
Vaccinations
The HSE immunisation department advises all parents to be aware of the ongoing measles outbreak throughout Europe this summer. Vaccination is the only way to protect your family against measles. If you are unsure that you and your family are protected, please contact your GP or the local immunisation office at 0749191757/758/759. 
Gold Stars
Well done to the boys who achieved nine gold stars for good behaviour. This entitles them to a special trophy. What an achievement!
Open Day
We had a very successful open day last week. Thanks to all the parents who came in to visit the school.
Rounders
Our rounders team had their first match of the year against Kilmacrenan N.S. last week. Thanks to Ms. Doherty from Scoil Mhuire for assisting us in the formation of a mixed team.
Visit from Donegal Junior Orchestra
County Final
Result just in and we have lost the final! Hard luck to our courageous team and our coaches, Mr. Kavanagh and Mr. McGowan.
Discover Maths & Science Award
Scoil Cholmcille has achieved a Science Foundation Ireland Discover Science and Maths Plaque of STEM Excellence for the 2016/17 academic year. Well done to Ms. O'Sullivan and Mrs. Janice Daly for collating, preparing and applying for this prestigious award!
Sportshall Presentation
On Friday, June 2nd, we had a presentation for our Sports Hall athletes. The 5th and 6th class boys won the All-Ireland Sportshall award and our 3rd and 4th class boys came second. This is the fifth All-Ireland we have won and we have been runners-up on three occasions. Patsy McGonagle, Olympic Manager, and Myles Sweeney, Donegal Sports Partnership, came in to speak to the athletes and their parents. Patsy gave an inspiring speech, talking about the value of trying one's best and never giving up. Thanks again to Mrs. Mc Clafferty, Mrs. Mc Macken and Peter Kelly for all of their hard work at lunchtimes and after school training the athletes.
Tips for Parents
We now have a "Tips for Parents" document which can be accessed in the download section on the left side of the page.  This contains some advice and suggestions on how you can help your child to get the most out of his/her time at school.
Coffee Morning
What a fantastic coffee morning we had last Friday. Special thanks to all the parents who sent in tasty treats and thanks to all who visited the school and made it a lovely occasion. We raised €2200 for school funds. Well done to Mrs. Mulrain, Ms. O'Sullivan and our S.N.A.'s who organised the day so well and sincere thanks to the sponsors of the prizes. Have a look at the gallery below.
Gaelic Football Blitz
Three matches and three victories! Well done to Mr. Kavanagh and Mr. Mc Gowan who trained our Gaelic football team during lunchtime and after school.
Finn Valley Athletics
Fantastic achievement at the highly competitive Finn Valley Primary School Athletics Championships yesterday!  Well done to our team of 32 athletes who came home with 20 medals having competed with  1300 pupils from 87 schools. Special thanks to Mrs. Mc Clafferty and Mrs. Mc Macken for all of their hard work training the athletes.
Scoil Cholmcille in the local news!
Scoil Cholmcille receives ninth Green Flag!
Over 15,000 visitors to our website since December!
Walk on Wednesday
The WOW winners this week are – Golden Boot for the Senior Block – Mr McGowan's class. The Silver Boot award for teh Junior end of the school goes to Mrs Mulrain's 2nd class. Well done to everyone on a great start to the Walk on Wednesday campaign, which will run from now until the end of the year.
Picnic Table
Mr. Cannon, Ms. O'Sullivan, Ms. Keys  and Mrs. Anne McGowan, former deputy principal and member of Letterkenny Tidy Towns Committee, pictured with members of the Green Schools Committee attending the presentation of a new picnic table for the school.
Table Tennis
Well done to our table tennis team who came 4th in the All-Ireland championship at the weekend. Thanks to Paddy Delap for his fantastic coaching.
Scór na mbunscoileanna
Pupils from Scoil Cholmcille competed in the Scór competition recently and they were fantastic. Have a look at the clip below. The boys are singing "Gleanntain ghlas Ghaoth Dobhair" with Fionn Halligan on the violin.
Green Flag 
JP and Jake accepted our most recent Green Flag for Global Citizenship – Energy, at a ceremony in the Radisson Hotel today, May 3rd  2017. We received our eighth renewal award certificate for outstanding achievement in improving the environmental quality of the  school and community. We shall have a special flag raising ceremony in the  near future, details to follow. Well done everybody on a  fantastic team achievement.
Walk for Water Day 
Mr. Kavanagh's 5th and 6th classes walked 8 kilometres carrying 2 litres of water on their backs in Glenveagh as part of the Green Schools Walk for Water Day. Well done!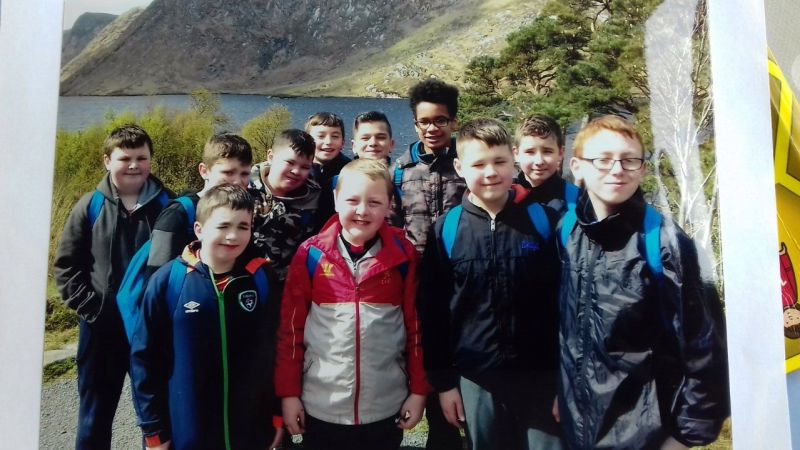 We have crossed the 10,000 visitor mark on our website. Thanks to staff, parents and pupils for visiting it over the past four months.  Happy Easter to everyone and see you back at school on Monday, April 24th. 
Gold Stars
Well done to the boys who qualified for gold medals after receiving six gold stars for good behaviour.
 Easter Draw
Our Easter draw took place on Wednesday, April 5th and we raised €6450. A huge thanks to all who bought tickets, the sellers and the sponsors.
Table Tennis news!
What a day! Five of our boys have qualified for the All-Ireland table tennis championships in Dublin in May. Well done! Special thanks to Paddy Delap for his coaching at lunchtime every day and to Mrs. Daly and Peter Kelly for helping to organise the boys.
All-Ireland Champions!
Congratulations to our 5th/6th class athletes who are All-Ireland Sports Hall champions! Well done to our 3rd/4th class athletes who were runners up in the All-Ireland. Special thanks to Mrs. Mc Clafferty, Mrs. McMacken and Peter Kelly (caretaker) for their hard work training the boys during lunch times and after school.Visit our page for photographs later today.
 World Book Day
Ms. Lagan introduced the boys to different genres of writing and helped them to publish their books. What a brilliant way to celebrate World Book Day!
We  are the champions!
Scoil Cholmcille are the Sports Hall County Champions in both categories (3rd/4th and 5th/6th) and will represent Donegal in the All-Ireland Sports Hall Championships in Athlone at the end of March. Special thanks to Mrs. Mc Clafferty, Mrs. Mc Macken and Mr. Peter Kelly (caretaker) for all of their hard work training the boys.
Making Beautiful pancakes in Mr. Mc Gowan's Class – Pancake Tuesday
Welcoming parents' opinions
We are currently in the process of revising our homework policy and drawing up an attendance policy in response to the statutory requirement. These are now available to download from the Parents page.
We welcome your view on either or both of these and if you have any comments, please email them to scoilcolmcillelk@eircom.net

Mr Mc Gowan's 4th class designed and constructed Norman Castles recycling amongst other things, used cardboard and toilet roll tubes in the process.  Do you like my Norman Castle?  It took me two weeks to complete. A big shout out to my fantastic parents who helped me begin and finish off this very enjoyable and interesting project.
10 @ 10
Have a look at out fantastic photos from the 10 @ 10 on Friday morning.
Watch our 10 @ 10 on You Tube here
Friendship Week 
Scoil Cholmcille  hosted the national initiative, "Friendship Week" last week. During the week, the pupils  participated in lessons about bullying, staying safe online and what to do if they feel they are being bullied. Facilitators from the Loft in Letterkenny  provided workshops(funded by Parent Association) in class to show children in the 4th, 5th and 6th classes how they can be safer when online.
Below are some entries from various classes for our Friendship Week Competition. The pupils had to design a poster showing a superhero defeating bullies or compose a poem/rap about bullying.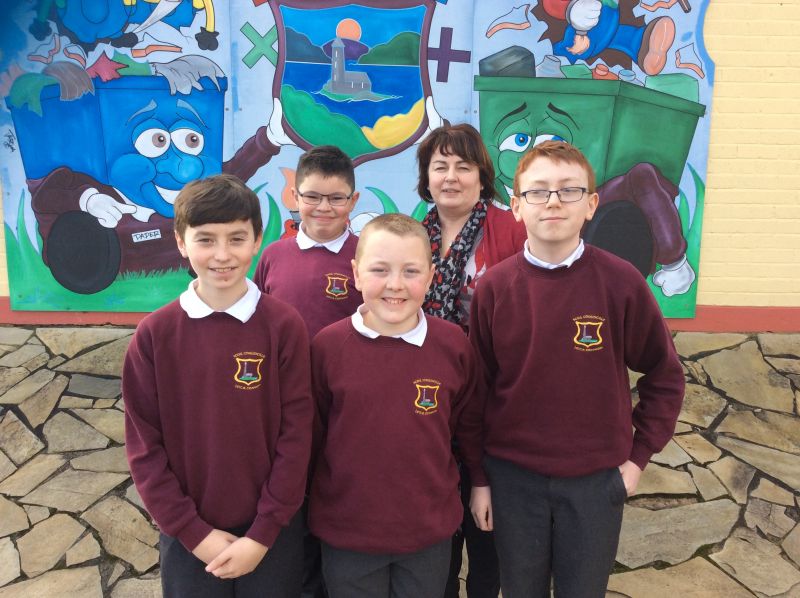 Mrs Kavangh's 5th class boys went to Letterkenny Institute of Technology on the 20th of January and experienced coding using the computer suites. They also attended a variety concert in Loreto Convent on Monday 30th of January. The show was hosted and presented by the TY girls and 1st years. They were entertained with a singing, dancing music and poetry. The girls were very talented and they all enjoyed it immensely.