Table Tennis news!
What a day! Five of our boys have qualified for the All-Ireland table tennis championships in Dublin in May. Well done! Special thanks to Paddy Delap for his coaching at lunchtime every day and to Mrs. Daly and Peter Kelly for helping to organise the boys.
All-Ireland Champions!
Congratulations to our 5th/6th class athletes who are All-Ireland Sports Hall champions! Well done to our 3rd/4th class athletes who were runners up in the All-Ireland. Special thanks to Mrs. Mc Clafferty, Mrs. McMacken and Peter Kelly (caretaker) for their hard work training the boys during lunch times and after school.Visit our page for photographs later today.
Over 9000 visitors to our website!
Thanks to all of you who have visited our new website. Don't forget to check out the class blogs to see what the boys have been doing.
Easter Draw
We have just two weeks left until the Easter holidays so please encourage the boys to sell as many tickets as possible. There is a fantastic selection of prizes and sellers' prizes also.
All-Ireland Sports Hall
Well done  to our 3rd/4th class and 5th/6th class teams who competed so well in Athlone I.T. in the All-Ireland Sports Hall Championship. Mrs. Mc Clafferty, Mrs. Mc Macken and Caretaker, Peter Kelly, have been training the boys during lunchtimes and after school for the past number of weeks. We are now awaiting the results and keeping our fingers crossed!
World Book Day
Ms. Lagan introduced the boys to different genres of writing and helped them to publish their books. What a brilliant way to celebrate World Book Day!
We  are the champions!
Scoil Cholmcille are the Sports Hall County Champions in both categories (3rd/4th and 5th/6th) and will represent Donegal in the All-Ireland Sports Hall Championships in Athlone at the end of March. Special thanks to Mrs. Mc Clafferty, Mrs. Mc Macken and Mr. Peter Kelly (caretaker) for all of their hard work training the boys.
Making Beautiful pancakes in Mr. Mc Gowan's Class – Pancake Tuesday
Welcoming parents' opinions
We are currently in the process of revising our homework policy and drawing up an attendance policy in response to the statutory requirement. These are now available to download from the Parents page.
We welcome your view on either or both of these and if you have any comments, please email them to scoilcolmcillelk@eircom.net

Mr Mc Gowan's 4th class designed and constructed Norman Castles recycling amongst other things, used cardboard and toilet roll tubes in the process.  Do you like my Norman Castle?  It took me two weeks to complete. A big shout out to my fantastic parents who helped me begin and finish off this very enjoyable and interesting project.
10 @ 10
Have a look at out fantastic photos from the 10 @ 10 on Friday morning.
Watch our 10 @ 10 on You Tube here
Friendship Week 
Scoil Cholmcille  hosted the national initiative, "Friendship Week" last week. During the week, the pupils  participated in lessons about bullying, staying safe online and what to do if they feel they are being bullied. Facilitators from the Loft in Letterkenny  provided workshops(funded by Parent Association) in class to show children in the 4th, 5th and 6th classes how they can be safer when online.
Below are some entries from various classes for our Friendship Week Competition. The pupils had to design a poster showing a superhero defeating bullies or compose a poem/rap about bullying.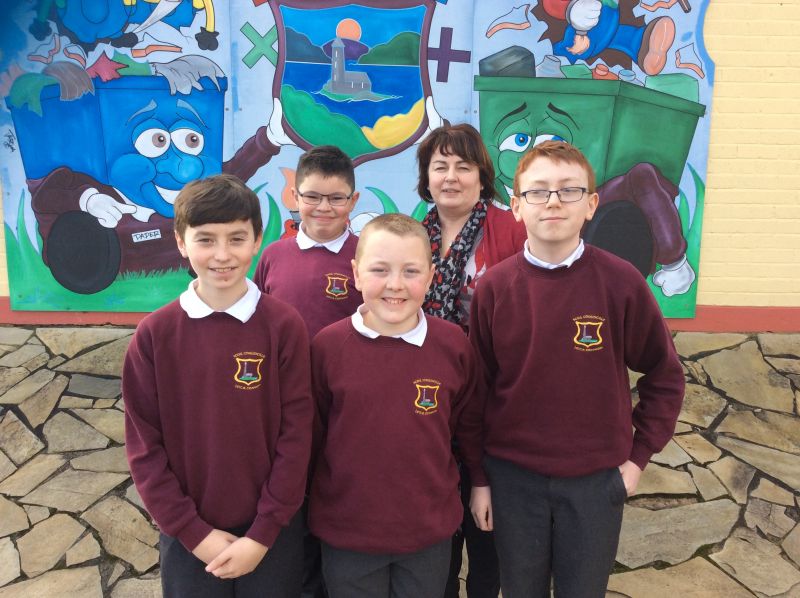 Mrs Kavangh's 5th class boys went to Letterkenny Institute of Technology on the 20th of January and experienced coding using the computer suites. They also attended a variety concert in Loreto Convent on Monday 30th of January. The show was hosted and presented by the TY girls and 1st years. They were entertained with a singing, dancing music and poetry. The girls were very talented and they all enjoyed it immensely.