Mrs Mulhall's class had lots of fun on the yard!
We did fantastic chalk drawings on our school yard!
What a beautiful sunny morning!
Junior Infants had great fun on their Easter Egg Hunt.  It was so exciting!
World Book Day.  We read 'Superworm' and drew covers for our favourite stories.
Junior Infants having fun with phonics.
Mrs. Mulrain's class are delighted to be back at school.
Mrs Mulhall's class were doing some role play about the Gingerbread Man.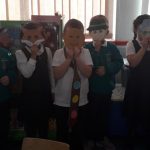 Mrs. Mulrain's class have been very busy.