Pumpkin Eruptions
Ms. Campbell's class have been experimenting with pumpkins (yes pumpkins) and it looks like they had great fun. Check out their videos below.
HALLOWEEN SILHOUETTES
We learned about shading and created beautiful moonlit  backgrounds for our Halloween themed art. Here are a few examples of our work.
Abstract Art
We learned about the Russian artist Wassily Kandinsky. Then we painted our own pieces of abstract art, inspired by his work.
🇳🇬Nigeria 🇳🇬
A huge thank you to all our pupils who shared their knowledge and experience with the class as we learned about life in Nigeria. Our classroom was a living classroom as we were lucky enough to see traditional Nigerian food and clothes first hand. We discovered that Ireland and Nigeria have many things in common.
Cooperative Games
We have been working together and having fun playing some boardgames during Golden Time.
Autumn Landscapes

STEM in 6th Class
We have started working on challenges in the area of Science, technology, engineering and maths. These challenges involve teamwork and problem solving. In the first challenge, pupils were asked to build the tallest free standing structure they could with 12 straws and some tape. They showed great ingenuity in their designs. They then tried to use spaghetti for a similar task. Check back in to see our next challenges.
Sixth class Graduation
We were all very sad to say goodbye to our wonderful sixth classes. It has been an absolute pleasure to teach these classes and we wish them well for their future.
Preparation for Confirmation 
The pupils in 6th Class will make their Confirmation in September. We have been busy preparing this term. 
The link below will bring you a copy of the information letter sent home with sixth classes regarding Confirmation.
A Final STEM Activity
The instructions were to build the tallest tower possible to hold a tennis ball, using only tape and newspaper. The groups reached very impressive heights today. Well done sixth class!

Snapshots from our final weeks 

STEM-  Building a spaghetti tower
The class had limited supplies and a time limit and we got some very interesting results… a lot of thinking outside the box!!
The winners were Felipe, Arthur and Prab- their tower reached an impressive 54cm!
Learning about the history of Letterkenny followed by fun in the park- a great day out!
As we begin to countdown our final days in primary school, the 6th class pupils have selected some of their favourite  activities. They have been hidden in balloons which we will pop each day next week. Then we will enjoy whichever activity is in the balloon.


Cooperative Play with Board Games

 Problem Solving
We used the brain snacks resource to work on our problem solving skills in our pods.

STEM challenge: Magnetic Race 
We have been learning about magnets in science and we used this knowledge to design and make a simple racing game. The pupils showed great imagination in this challenge.

Japanese Cherry Blossoms

STEM challenge: Build a Bridge
We looked at bridge design and famous bridges all over the world. Each pod then had to construct their own bridges using the materials in the STEM box. The bridge had to be 30cm long and be able to take the weight of the toy car. Our future engineers excelled themselves.
We learned about magnets in science and used our knowledge to create maze games.

World War Two Display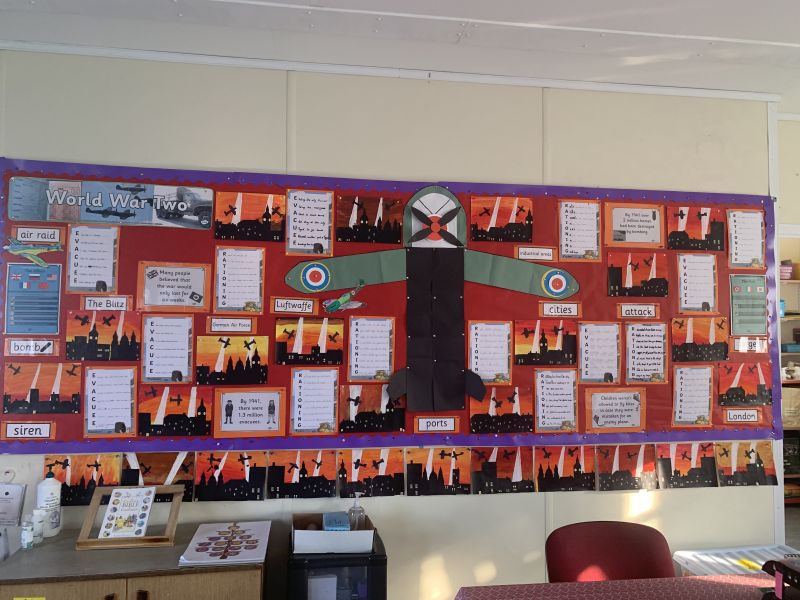 STEM challenge: Design a lighthouse
The class had to use their understanding of electric circuits to design and make a working lighthouse. The results were fantastic with some pods even incorporating a switch mechanism.
STEM challenge: Design a shoe
The class had to design a shoe using only paper and tape. The groups had to work together and fulfil certain criteria- fit one person in the group, be able to put on and take off and strong enough to walk around the room. The groups worked very well together, coming up with a variety of ideas and ended the activity by presenting their shoe and modelling with attitude!
Science: Working with electricity- creating simple circuits to light bulbs and power buzzers
Ice cream rewards earned over a number of weeks- well done 6th class!
We have learned about world war 2
Some colourful art for Easter to brighten up the walls!
In science we observed how light reflects and how this reflection affects the images we see. We applied this knowledge to create kaleidoscopes and explored mirror writing.
1916
6th class have learned aboutIreland and the 1916 Rising. The classes have looked at a variety of sources to learn as much as we can.
We began a novel and are learning how to explore each character.
Projects on countries of the world. Each boy chose his own country to research, created a display and then presented orally to the whole class. 
Some recent art using clay in 6th class. The classes first made pumpkins and progressed onto clay owls. Didn't they turn out well!
Some STEM activities from 6th class. STEM is helping students enhance their critical thinking skills using science, technology, engineering and maths.
The pupils were given an instruction and a limited number of supplies and had to work together to achieve the task.
The pupils were given the task of creating a parachute for a toy army man. Lots of designs were tried out and many tweaks made before the class settled on final creations.
Here, the pupils were given 12 straws and tape and asked to create the tallest freestanding tower possible. The generated some interesting discussions on what makes a strong base.
The pupils were asked to create a launcher to send a toy soldier the greatest distance possible. One group managed to launch the army many almost the full width of the classroom!
Welcome back to our 6th Classes
Mrs Dunleavy and Mrs Kavanagh were delighted to welcome back the 6th classes to Scoil Cholmcille on Monday. After the long absence they got straight back to work and they have achieved a lot  in their first week. We have explored place value in Maths, researched the Celts in History and we got to know each other through art, discussion and play.
Above all, the pupils have been amazing in their response to the new Covid rules that have been put in place to make Scoil Cholmcille safe. They have been observing distancing, staying within their pods and bubbles and adhering to the handwashing and sanitizing guidelines.
We are very proud. We are sure to have an exciting year ahead so keep an eye on here for examples of our work.

Book Rental Return
Please note that all book rentals should be returned to the school this Thursday and Friday between 9.30 – 3.00. Please return your books to the front door of the school in a plastic bag. Many thanks.
6th Class Graduation
It was so lovely that so many of you came to say a final farewell to us and Scoil Cholmcille. We really enjoyed seeing all the faces again and seeing how much you had all grown! I hope you have as many fond memories of the school and of your teachers as we have of you all. It has been  pleasure to teach you and the corridors of Scoil Cholmcille will not be the same without your happy, smiling faces.
We wish you every good fortune for your future and remember you'll always be a Scoil Cholmcille boy!
If we've left out a photo in error, please let us know!