Sixth class will all get a chance to cook in the cookery club with Mrs Kelly. Here we have Clyde, Stephen and Finn who made delicious homemade scones with fresh cream and strawberries – they were delicious!
I hope the boys try out their new skills at home.
Well done Paddy – an Ulster Champion in boxing!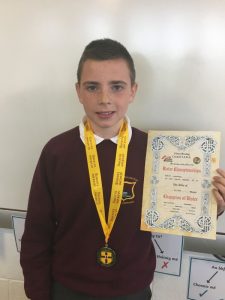 Science Experiment
We used salt and potatoes to examine how water is taken from cells. This led to very interesting discussions about Egyptian mummies and growing older…