Debate this week: Children should be kept indoors after 8pm.
Well done to Kacper, Paddy, Luke and Micheal for their hard work and interesting speeches.
Snow globes: can you find everybody?
Its beginning to look a lot like Christmas!

Cooking quiche in the kitchen.
Construction underway!
Rhythm Relays in music as the boys get to grips with the different beats!
Cottage Pie this week in the kitchen-Rino, Pat and Martin cooked up a storm with Mrs Kelly.
Thanks a million to Mrs Timoney for giving us all such a wonderful talk on the season of Advent while demonstrating the making of the Advent wreath.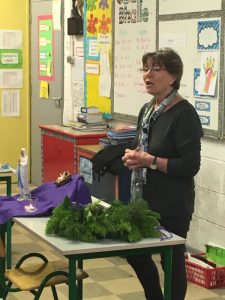 Chocolate chip cookies in the kitchen last week!
Working with clay in the last few weeks, the boys created owls and hope to transfer their new skills to creating a new project in the future.
Debate: Footballers are overpaid
An interesting topic and one close to the hearts of many boys today. Well done all who took part.
Science experiments creating simple pulleys and exploring friction
Classroom debate in sixth class.
A very interesting debate took place in class as we explore persuasive writing.
Martin, Nosa, JJ and Clyde wrote and delivered speeches to the class on the motion "School Uniforms should be Banned."
The boys conducted their own research and delivered great speeches with great confidence and clarity. They then took numerous questions from the floor and answered them with respect and knowledge.
Well done to the the debaters and the rest of the class for respectful listening and insightful and interesting questions.
French Toast or Eggy Bread made by Michael, Jamie and Bartek.
Some spooky art in the corridors and a wonderful piece of art from Walber.
The NET Team working with our 6th class boys in preparation for their confirmation.
Our drama class included some interesting characters as well as some very unusual noises!
Martin and Stephen telling us about their sporting achievements in boxing and hurling. Well done boys – you're a credit to the school and and keep up the good work.
Wainfest Lego:A trip to the library
Such concentration on the boys' faces as they followed the instructions. A great time was had by all.
Omelettes in the kitchen this week from Jack, Luke and Andrew.
Sixth class will all get a chance to cook in the cookery club with Mrs Kelly. Here we have Clyde, Stephen and Finn who made delicious homemade scones with fresh cream and strawberries – they were delicious!
I hope the boys try out their new skills at home.
Well done Paddy – an Ulster Champion in boxing!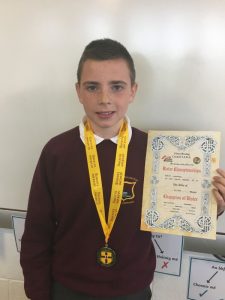 Science Experiment
We used salt and potatoes to examine how water is taken from cells. This led to very interesting discussions about Egyptian mummies and growing older…