Be the best You that You can be
The boys planted bulbs, discussed their needs and the potential each bulb has to be a beautiful flower if it accepts the heat from the sun, absorbs nutrients and water from the soil and pushes through the soil to be the best flower it can be.
The boys were then reminded of the potential in each one of them to be the best 'you' they can be, if they accept love from family and friends and put effort into themselves. Material things in life are not important, the people in our lives are. The boys were reminded they are all unique and special in their own way.
Doing the 10@10 for RTE! Such excitement.
Home made Pizzas and Apple crumble with custard
Valentine Art
No one was saying who the cards were for……?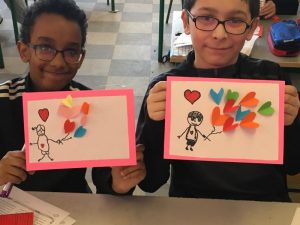 And more pancake making and eating!
PANCAKE TUESDAY
The boys enjoyed yummy pancakes and Nutella this morning. Many thanks to Mrs Fisher and Mrs Cannon for their help.
Credit Union Quiz
Well done to all the boys who represented Scoil Cholmcille in the Credit Union Quiz in the Mount Errigal Hotel on Monday night. The boys did us proud.
🇧🇷BRAZIL🇧🇷
Look at the projects we completed on Brazil. We used the school laptops to research and publish our projects.
Confirmation
The pupils in 6th Class are busy preparing for the sacrament of Confirmation on the 24th February. We are learning about the gifts the Holy Spirit will bring. The NET Team have been visiting us every Wednesday to help with our preparation.
We also welcomed a very special visitor last Thursday. Bishop Mc Guckian came to Scoil Cholmcille and spent time with the candidates for Confirmation. It was a very informative and spiritual occasion.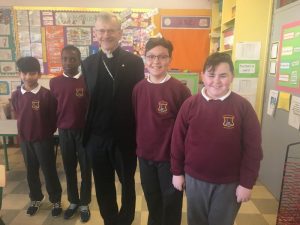 MARTIN LUTHER KING JUNIOR
Martin Luther King Jr Day was celebrated on Monday January 15th. We learned about his life and legacy. We watched his famous 'I have a dream' speech. The pupils made posters of his most famous quotes and we completed fact files.
MATISSE ARTWORK
Mrs Dunleavy's Class 'painted with scissors'. We were inspired by the art of  French artist Henri Matisse.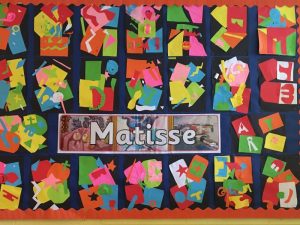 B.L.T.'s  were on the menu this week!
Well done Harry, Jude and Keelan.
Some interesting powerpoints created and presented by the boys.
Unique pencil holders made using clay
  Pizza party 🎉🍕🎉🍕
Mrs Dunleavy's and Mrs Kavavangh's Classes shared a pizza party this afternoon to celebrate a great first term. The boys have enjoyed academic progress, have achieved many personal goals as well as huge extra curricular success with Sport, the choir and the debate team. Both teachers are extremely proud. Well done boys!! Have a happy Christmas 🎄
Well done to all the boys who sang so beautifully in the carol service. You can hear some of the music if you check on you tube.
It's beginning to look a lot like Christmas!

The boys created some very unique pencil holders using clay this month.
Tasty Christmas puddings!
Another wonderful sketch from our talented Amir.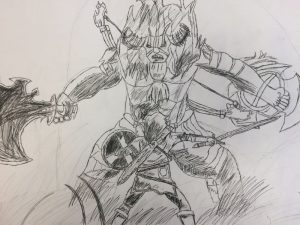 French toast and fresh fruit!
The boys really loved making this simple and wholesome dish, known to many people as 'eggy bread!'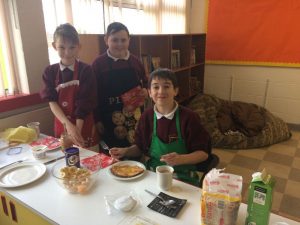 We had a visitor to our class, Ms. Vera Timoney, to show us how to make an advent wreath. Ms. Timoney explained the symbolism behind each part of the wreath and the importance of Advent in the catholic church. Thank you Ms Vera Timoney for your time.
In science we made our own kaleidoscopes using mirrors and wrote in the style of Leonardo Da Vinci using mirror writing.
More cooking in the kitchen
The boys have made tasty omelettes as well as sweet scones with cream and jam. The smells coming from the kitchen have been very tempting!
Making buns with Mrs Kelly.
Odhrán, Bartek and Caden made delicious cup cakes in the school kitchen.
Loving the new aprons boys!
The boys also helped Mrs Kelly make extra buns for all the parents attending meetings last Thursday – I think they were trying to sweeten them up!

Hallowe'en Fun
We made pumpkins with Mrs Kelly. They tasted delicious! The process was fun but a little messy!
Everyone was allowed to dress up on Friday in fancy dress and a great day was had by all. Even Master Cannon dressed up to scare us all in the morning!
We played some games with balloons and cookies. Rudi and Harry impressed everyone with their skills. It was great fun.
Well done to Jack and Karl!
Our school debate team, including Jack and Karl from our class, won their first debate of the year against Gaelscoil Adhamhnáin. The motion was 'Social Media is a bad influence on children'. We were proposing the motion.
Experimenting with simple pulleys.
Silhouette Art and What's on my Mind?
Can you recognise anyone?
Soil Investigators
We collected soil samples from different areas of our school grounds and examined them to determine where they cane from. We passed water through each soil to explore the drainage.
Picasso Inspired Art
Halloween Art in Room 15
We have been using the school laptops to create presentations on polar animals. We looked at them on the interactive whiteboard.
We're working together to make as many Christmas boxes as we can for Team Hope. Well done to all the boys for their kindness and Mrs Kelly for helping to organise.
We revised long division and realised that we are great at it!
Our number facts are at our fingertips too.
We had a welcome visitor to our class when a former pupil came back to tell us all about life in the college. The boys had plenty of questions which were ably answered.
Starting out our new school year putting our best foot forward and the boys discuss what makes a good classmate.
Lovely name art and studying the Celtic civilisation
Co-operation in action in Mrs Kavanagh's sixth class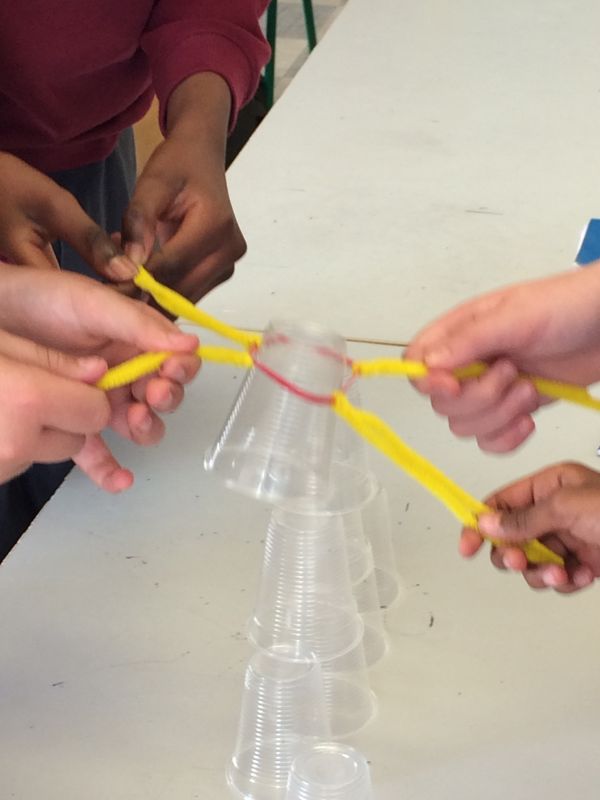 Hour of Code in St. Eunan's College
 September in Room 15
The boys in Mrs Dunleavy's class have had a busy start to the new school year. We have been working on writing genres with a focus on Explanation writing. The boys have produced some excellent examples using the school laptops.
We have looked at the art of Russian artist Wassily Kandinsky and used his pieces as inspiration for our own art projects. We also made a lovely display for our classroom door.
We took part in Science experiments to explore how a flame uses oxygen as it burns.
Look at the gallery below for some photos of our work and check back in throughout the year to see updates.