Happy Easter from Ms. Ferry's class
Spring Walk
Ms Ferry's class enjoyed a Nature Walk on a sunny spring morning.
Aistear
In February we had lots of fun learning about the hospital.
Visit from Garda Maeve
We had a visit from Garda Maeve who taught us how to keep safe when we are travelling in the car and on the road. She also reminded us to put our gadgets away and about the dangers of the internet.
Gymnastics with Ms. Mc Grath's class.
Opening letters from their classmates
Valentine's Day Preparations are underway!
Aistear
Senior Infants were busy learning about 'The Post Office' in January. We also enjoyed a surprise visit from our school postman!
Baking in Senior Infants
The boys and girls in Senior Infants had lots of fun making Rice Krispie buns.
Science Week
We had lots of fun during Science Week.
We love Maths!
Senior Infants enjoying number practice.
Halloween in Senior Infants
Look at our spooky costumes!
Senior Infants are having great fun with Aistear. Our theme for Halloween was "The Potion Shop". We had a great time making magic potions, wizard hats and lots more!
An Grianán Theatre
We read the book "The Snail and the Whale" by Julia Donaldson in class. We then went to see the production of the story on stage.
Halloween Art
Senior Infants have been busy preparing for Halloween. Have a look at some of our lovely work.
Maths
We have been learning about patterns in Maths.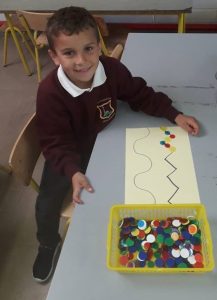 Senior Infant Library
Senior Infants have been enjoying their new library area in class.It is a lovely space to read some of our favourite books.