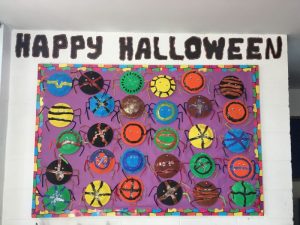 STEM PROJECTS 4th CLASS – All About Squirrels
I rang a trí agus rang a ceathar rinne muid iarracht pictiúrí a dhéanamh leis an dath glas.
We only used green, or green mixed with black or white to make different shades and tints of green for our painting.
Fantastic Geography Projects in room 9.
Miss Mc Nulty's 4th class boys constructing 3D Shapes
Mr. Mc Gowan's class visited the Wastewater Treatment Plant on the Thorn Road, Letterkenny.
Ms. Mc Nulty's class have been busy making silhouettes!
Wainfest 2017
Here are some pictures of Mr. Mc Gowan's 4th Class attending a literacy workshop at the County Library, Letterkenny.  The workshop was delivered by best-selling-author and soccer correspondent, Dan Freedman, as part of Wainfest 2017.  The boys found Dan to be an extremely entertaining, insightful and inspiring presenter.  There were some fantastic questions asked and some were lucky enough to win prizes.