World Bee Day
May 20th was world Bee day and the 5th class boy were learning about the different ways in which they can help protect and save the Bees.With the help of Mrs. O' Sullivan we planted some herbs in the herb garden at the back of the school. 
 
5th Class boys enjoying a cartoon drawing workshop with Jarla Duffy as part of the Peace IV project
                                             Peace IV
We have really been enjoying taking part in the Peace IV project this year. We recently met up with the pupils from Ballyraine NS and Educate Together NS and spent the day exploring and taking pictures of the Ramelton Woods. We also spent a fun filled day in Educate Together taking part in dance workshops, samba drumming and LEGO building.
Internet safety Day
February 5th was internet safety day. 5th class discussed ways in which we could be our best digital selves and created a collaborative poster to promote internet safety.
 
5th class doing research for their European countries project

5th class Christmas carol singers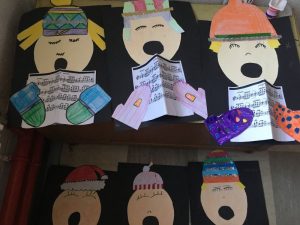 5th class Halloween Art
5th class also enjoyed making our own lava lamps as part of a science experiment. We then wrote up the experiment during our English lesson as this month we are focusing on procedural writing.
The Romans
5th class have been busy learning about the Romans during the month of September. We have enjoyed learning about the Roman army, Roman Gods and Roman daily life.  All of our work is displayed outside Room 16 including our Roman mosaics and Roman scratch art vases.