February 5th was internet safety day. 5th class discussed ways in which we could be our best digital selves and created a collaborative poster to promote internet safety.
 
5th class doing research for their European countries project

5th class Christmas carol singers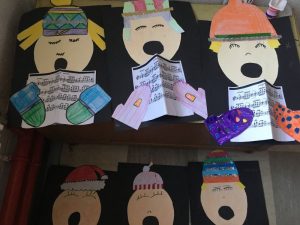 5th class Halloween Art
5th class also enjoyed making our own lava lamps as part of a science experiment. We then wrote up the experiment during our English lesson as this month we are focusing on procedural writing.
5th class have been busy learning about the Romans during the month of September. We have enjoyed learning about the Roman army, Roman Gods and Roman daily life.  All of our work is displayed outside Room 16 including our Roman mosaics and Roman scratch art vases.