Happy Halloween!!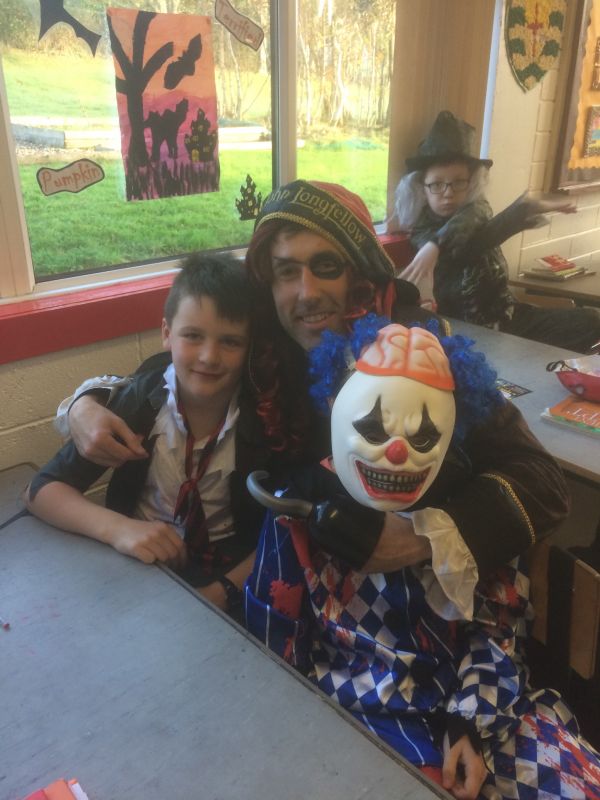 Traditional Halloween Games in Rm 13
Shoe Box Appeal
Thanks to everyone who sent in their shoeboxes. Some child will receive a very special gift this Christmas. Well done boys!Have a Spooktacular Halloween !!
Meet Mr. Kavanagh's All Star Crew !!
Hello from everyone in Rm.13 !
We can achieve more when everyone works together. We set out our targets for the coming year.
Pasta Frames !!!
We integrated some of our knowledge on healthy foods into our Art class this month. Check out our lovely Autumn landscapes!
Science – Materials and Change
Experiment Time in Rm 13:
Investigating the effect of a weak acid(vinegar)  on a material (eggshell)
Maths – Data – Homework oh Homework!!
Rm 13 conducted a survey to find out how much time each pupil spent doing their homework!! When we had the data collected we represented our results on a Bar Chart.
SPHE – We created a 10 Step Guide to a Healthy Lifestyle !!
Soil Investigators
We took samples and soil from four areas of our school grounds and examined them closely to guess where they came from. We then passed the soil through a filter to explore how particle size affects drainage.
Magic Hands
Sharing our Magical Halloween recipes with the class using 'magic hands' was  lots of fun!
Halloween Art in Room 15
Chemical Reactions
We are learning all about solids, liquids and gases in Science. We created carbon dioxide by mixing baking soda with vinegar. We used this gas to extinguish a candle, making our own mini fire extinguisher! We recorded the experiment.
Polar Presentations
We used the school laptops to create presentations on the theme of Polar Animals. We viewed our presentations on the interactive whiteboard.
Picasso Inspired Art 
 September in Room 15
The boys in Mrs Dunleavy's class have had a busy start to the new school year. We have been working on writing genres with a focus on Explanation writing. The boys have produced some excellent examples using the school laptops.
We have looked at the art of Russian artist Wassily Kandinsky and used his pieces as inspiration for our own art projects. We also made a lovely display for our classroom door.
We took part in Science experiments to explore how a flame uses oxygen as it burns.
Look at the gallery below for some photos of our work and check back in throughout the year to see updates.