European Countries
We used the school laptops to research a European country of our choice. We prepared a PowerPoint Presentation to share our findings with the class. Each member of the group presented a number of slides. We included factfiles, pictures and interesting aspects of the country's sport and culture.  The results were very impressive and we all learned a lot from each other. 
World War 2
We have been learning about World War 2. We wrote diaries of children who were evacuated from London during the war.
Let's Go Fly a Kite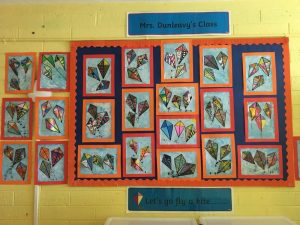 Honey Bee 🐝 Art
Before our trip to Glenveagh we wrote reports on the bee. We made clay fridge magnets and we used a shape pattern to create our hives.
Designing a Marble Run
We have been learning about forces in Science. Each group designed a marble run using recyclable materials. The first class came to test the results. They enjoyed playing with our designs and helped teacher choose a winning entry. 
Glenveagh
Mrs Dunleavy's class travelled to Glenveagh to learn all about bees and pollination. The sun shone, the deer came to see us and we had a great day!
Scratch Coding
Mrs Dunleavy's class have been using the school laptops to begin coding. We are using Scratch. In week one, the boys created simple games.
PANCAKE TUESDAY
The boys enjoyed yummy pancakes and Nutella this morning. Thanks to Mrs Fisher and Mrs Cannon for all their help.
CREDIT UNION QUIZ
Well done to all the boys who represented Scoil Cholmcille in the Credit Union Quiz on Monday in the Mount Errigal Hotel. The pupils did us proud.
🇧🇷 Brazil 🇧🇷
Look at the great projects we completed on Brazil. We used the school laptops to research and publish our projects.
Lighthouse Project
Following our class work on Electricity, one of our 5th Class pupils made this fabulous Lighthouse with his family over the weekend. The light in the lighthouse switches on and off. We look forward to seeing more examples in the coming weeks.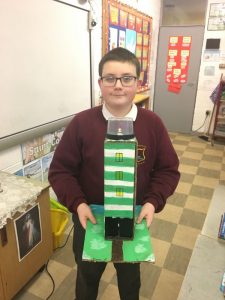 Chinese New Year
Chinese New Year will be celebrated on Friday 16th February. We will be learning about the customs associated with the festival. We are working on a variety of Art projects. Please check back to see our progress. These are Folded Fortune Dragons we made this week.
Exploring Electrical Circuits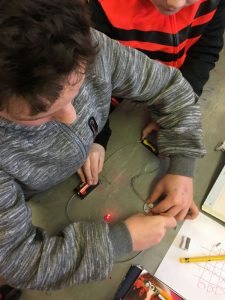 MARTIN LUTHER KING JUNIOR
Martin Luther King Jr Day was celebrated on Monday 15th January. Mrs Dunleavy's class learned about the life and legacy of Martin Luther King. We listened to his famous 'I have a dream' speech. The boys then made posters of his most famous quotes and completed fact-files.
MATISSE ARTWORK
Pupils in Mrs Dunleavy's class 'painted with scissors'. We were inspired by the art of French artist Henri Matisse.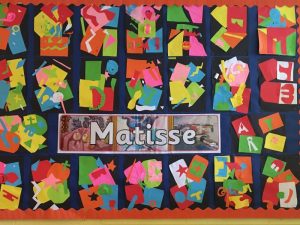 Pizza party 🎉🍕🎉🍕
Mrs Dunleavy's and  Mrs Kavavangh's Classes shared a pizza party this afternoon to celebrate a great first term. The boys have enjoyed academic progress, have achieved many personal goals as well as huge extra curricular success with Sport, the choir and the debate team. Both teachers are extremely proud. Well done boys!! Have a happy Christmas 🎄
Happy Halloween!!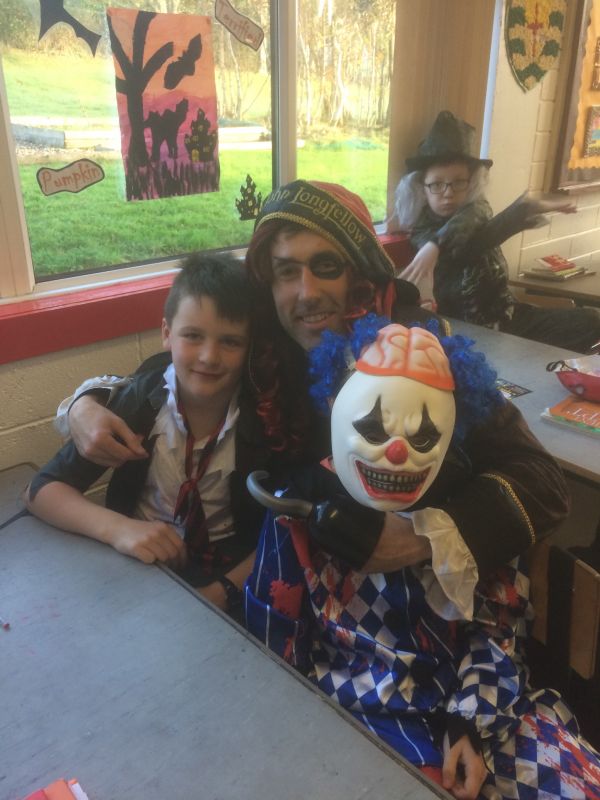 Traditional Halloween Games in Rm 13
Shoe Box Appeal
Thanks to everyone who sent in their shoeboxes. Some child will receive a very special gift this Christmas. Well done boys!Have a Spooktacular Halloween !!
Meet Mr. Kavanagh's All Star Crew !!
Hello from everyone in Rm.13 !
We can achieve more when everyone works together. We set out our targets for the coming year.
Pasta Frames !!!
We integrated some of our knowledge on healthy foods into our Art class this month. Check out our lovely Autumn landscapes!
Science – Materials and Change
Experiment Time in Rm 13:
Investigating the effect of a weak acid(vinegar)  on a material (eggshell)
Maths – Data – Homework oh Homework!!
Rm 13 conducted a survey to find out how much time each pupil spent doing their homework!! When we had the data collected we represented our results on a Bar Chart.
SPHE – We created a 10 Step Guide to a Healthy Lifestyle !!
Soil Investigators
We took samples and soil from four areas of our school grounds and examined them closely to guess where they came from. We then passed the soil through a filter to explore how particle size affects drainage.
Magic Hands
Sharing our Magical Halloween recipes with the class using 'magic hands' was  lots of fun!
Halloween Art in Room 15
Chemical Reactions
We are learning all about solids, liquids and gases in Science. We created carbon dioxide by mixing baking soda with vinegar. We used this gas to extinguish a candle, making our own mini fire extinguisher! We recorded the experiment.
Polar Presentations
We used the school laptops to create presentations on the theme of Polar Animals. We viewed our presentations on the interactive whiteboard.
Picasso Inspired Art 
 September in Room 15
The boys in Mrs Dunleavy's class have had a busy start to the new school year. We have been working on writing genres with a focus on Explanation writing. The boys have produced some excellent examples using the school laptops.
We have looked at the art of Russian artist Wassily Kandinsky and used his pieces as inspiration for our own art projects. We also made a lovely display for our classroom door.
We took part in Science experiments to explore how a flame uses oxygen as it burns.
Look at the gallery below for some photos of our work and check back in throughout the year to see updates.