Defeat the Keeper
Zhekai Liu won the goal scoring award for junior infants in the "defeat the keeper" competition. 
Visit from dental hygienist
Pat, the dental nurse, called in today to tell the pupils about how to brush their teeth properly and also to limit their sugar intake.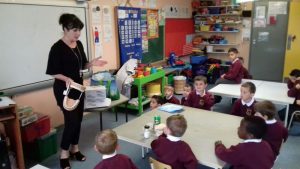 Bubble blow painting
Junior infants investigating river life, insects and salmon.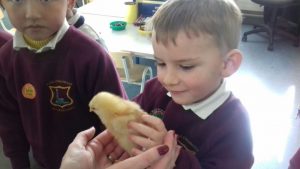 Baby chicks visited junior infants.
Spring Walk  in the sunshine
Science and Engineering
The infant classes were visited by employees of Seagate in Derry to provide science and engineering workshops for the pupils.
Building Castles in Ms. O' Sullivan's class
The boy in Ms. O' Sullivan's class have been busy with Lego. Check out this castle.
Merry Christmas from Ms. O'Sullivan's class!
Ms. O Sullivan's class have been constructing with straws!
We are exploring patterns in Mrs Mc Clafferty's Junior Infants!
Mrs Mc Clafferty's class enjoying Aistear – "The Potion Shop"
Ms. O'Sullivan's have been learning about the solar system.
Ms. O'Sullivan's junior infants practising their fine motor skills!