Lots of fun on our first Peace IV Day
Oil and water do not mix
Experiment about friction and lubrication
Learning about Internet Safety with Dominic from The Loft.
We designed our own pencil holders using clay.
Tullydonnell Gold Hoard
Sixth Class visited the museum to see the Gold Rings from the Bronze Age discovered in Co Donegal.
Language games to help us learn and construction to help us work together.
A science experiment exploring the pulley system.
Science experiment exploring water in cells. We used a potato and salt.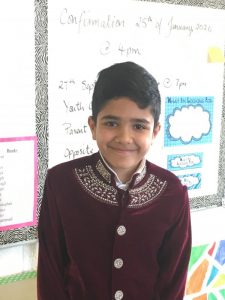 Mohammad in his traditional costume, preparing to greet Minister Mc Hugh, as he made his historic announcement of our new school building.
Fun in the LYIT exploring maths around us.