Hi everyone.
I hope that you are all well. I have added some more useful websites for you in addition to those that Ms.McDaid has added below
For next week (30th March – 3rd April) could I ask that my groups continue with your spellings units and Master your Maths as marked when school finished up. Have a look at the exercises MsMcDaid has marked in Busy at Maths…you will be able to find them online ..details are listed below. Try and see how many you can do! 
For children who are learning English as an additional language  (EAL)the following websites are particularly useful. They will help you with letter sounds and also increase your vocabulary.
www. phonics play.co.uk
Username: march 20
Password: home
www. britishcouncil.org
If you don't have access to the internet you could tune into the Home School Hub on  RTE 2 which starts next Monday . It's on daily from 11-12 and can also be found on RTE.ie/learn on RTE player.
Take care.
P.Shields.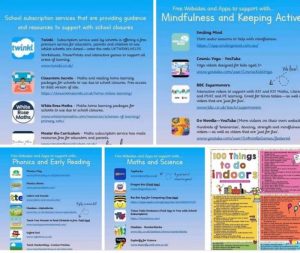 Hi everyone,
Hope you are all well. Myself and Mrs Shields will be updating the blog with suggested activities to keep the learning up at home. Some activities referred to will be within the pupils' school books, which are now available online with CJFallon and Folens.  The picture below is how to register with Folens and for CJFallon, follow this link
https://my.cjfallon.ie/dashboard/student-resources/?levels=0&classes=0&subjects=0&serieses=0&booktitles=0&types%5B0%5D=Book+Sample 

Take Care,
Ms McDaid
The following are suggested learning activities for the 30th March till the 3rd April:
English
Spell Well 2 – Week 27 pg 56 & 57 – learn spellings and do activities
Reading: Grumpy Teaspoon: Cat News pages 68-71 & pick two activities of A/B/C on pg 72
My News – writing their news
Write a report on your favourite animal. Remember to think of where the animal lives, what they look like, what they eat and some interesting facts about the animal. Use scoilnet.ie and the world book online tab to help with your research before writing.
Starlight Combined Reader & Skills book (Folens) – Report about Spain and activities – 26&27
2 pages of Handwriting
Keep reading books at home. Starlight (Folens) have a core reader on their website too
Oral Language- Name 5 Game:
| | |
| --- | --- |
| Name 5 things that smell nice | Name 5 things that are circular in shape |
| Name 5 things that taste spicy | Name 5 things that are orange |
| Name 5 different fruits | Name 5 things that feel soft |
| Name 5 things that sound nice | Name 5 things found on a farm |
Gaeilge
RíRá 2 (CJFallon) – Aonad 14 – pgs 34-35
Abair Liom D (Folens) –  unit 19. An Dinnéar – pg 96-101
new words: pláta, scian, forc, sorn, sáspan, pota, uachtar reoite, glasraí, babhla, cuisneoir, salann, im, cairéid, spúnóg, feoil, líomanáidm gloine, piseanna
Continue with activities for unit 19. An Dinnéar
Try come up with 3 sentences about the poster e.g. Tá Séan ag ithe cairéid. Tá bainne sa cuisneoir.
Use two teddies and practice our questions that we do with our puppet 'Séan' at school e.g. cad is ainm duit? Cén aois thu? Cá bhfuil tú i do chonaí? Cén rang ina bhfuil tú? Cén dath atá ar do ghruaig?
Maths
Continue learning tables -8. Topmarks hit the button game is a great game to revise tables. Play tables champion at home.
Busy at Maths (CJ FALLON) – Subtraction with renaming – pages 138, 152, 153, 154, 155.
Master Your Maths – Week 25 – pg 54-55- one column a day, Friday Test pg 90.
Here are some other renaming sums from twinkl to practice and the poem we used to help us remember how to do it
History/Geography/ Science
Look out for signs of spring e.g. flowers, birds etc. Go on a nature walk (remember social and physical distance) and see how many signs of spring you can find.
https://www.topmarks.co.uk/Spring/WhatIsSpring.aspx
Write an acrostic poem for SPRING.
Small World 2nd Class (CJ Fallon) – Nurse on Duty – page 68 & 69
People at work – think about the following jobs at when they help us. Write a sentence or tell someone at home how they help you e.g. A vet helps me when my pet is sick.
| | | | | |
| --- | --- | --- | --- | --- |
| chef | farmer | teacher | dentist | nurse |
| fire-fighter | doctor | shop-keeper | vet | garda |
PE & Art
Go-Noodle
10@10 RTÉ
The Body Coach on Youtube does a live P.E. class at 9am every morning
Check our Youtube – ArtHubForKids – for lots of wonderful drawing tutorials.
Create a Spring Scene.
Below is a list of useful websites and apps to assist with learning.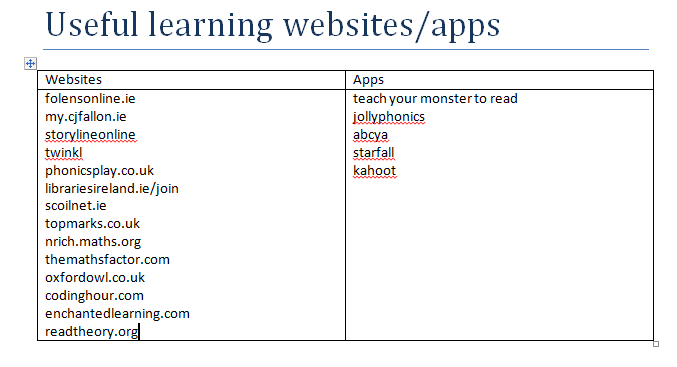 February 2020
February has been quite a busy month with 2nd class. We have been learning how to measure length and we found items in our classroom that measured a metre, half a metre and quarter of a metre. We also made beautiful L O V E print pictures for Valentine's Day. We are eagerly awaiting to see some spring flowers start to grow so we drew and painted some tulips, daisies and daffodils. Have a look at our work below.
Safer Internet Day 2020
On Tuesday February 11th, 2nd class celebrated Safer Internet Day. We discussed how and when we use the internet and made up rules for staying safe online.
Science & Maths in Room 5
2nd class pupils recently learned about data in Maths. We took our maths outside to do a traffic tally and to tally items we could see from the school yard e.g. trees, windows, birds etc. Then, we used SKITTLE sweets for maths and science. We tallied how many of each colour skittle there was and made it into a graph. Afterwards, we did a science experiment on how to make a rainbow using skittles. We even got to eat a few skittles after all our hard work!!
Literacy Lift Off / Guided Reading Programme.
During 6 weeks in September and October, 2nd class were the first group in the school to take part in the Literacy Lift off / Guided Reading Programme. For one hour every day the pupils took part in 5 literacy stations of guided reading, dictation, phonics & comprehension, ICT with tablets and fine motor activities. Everyone enjoyed the programme and the teachers saw big improvements in the pupils' reading skills. Well done everyone!
Second Class 2019/2020
Our new 2nd class have been super busy in their first term. Have a look at some of the work they got up to in September and October.
Congratulations to all the children receiving the trophy for their behavior this year.
We have our own patch to plant and take care of in the vegetable garden!
The children had a great time with the mobile zoo!
First Holy Communion
Congratulations and well done to all the boys who made their First Holy Communion on the 11th May 2019.
The Solar System Study
2nd class recently completed a unit of work based on the solar system. The pupils made up poems to help remember the order of the planets. They also researched information in books and on the tablets about the planets and created a fact card for each planet. In art, everyone made a chalk drawing of the solar system and mini rockets.
Clay Easter Baskets
Before the Easter break, the 2nd class boys made Easter baskets using clay. They first had to mould the clay into the correct shape, then design thir baskets using tooth picks and finally paint their creations. Have a look at their very creative work.
Active Learning and Impressive Groupwork
A Quick Update
Over the past month 2nd class have been super busy! Pupils researched and wrote reports about animals. We were also very lucky to take part in a Bricks 4 Kids workshop. Lots of measuring work was done in Maths, especially measuring the length of objects and weighing them and for St. Patrick's Day we made shamrock men.
Making Butter
2nd class investigated materials in their science lessons. We discussed how certain materials can change. We tried out an experiment to show how cream can change to butter. Everyone got a little taste of their creations. What a tasty science lesson!
Saint Brigid's Crosses with Miss McDaid's 2nd class
Miss McDaid's class celebrated Saint Brigid's day by making their own Saint Brigid crosses using coloured pipe cleaners. We think they look fantastic.
A tasty way to practise fractions!
The children got involved in some hands on measuring!
Great effort made with beginning writing in Irish
Co-operative Stretching Activity!
The children in Second Class had a great time trying out the new suite of tablets. They had a go at coding, wordgames and writing a few memos! These children will certainly have no trouble keeping up with the digital age!