Dear Parents,
We hope that you are keeping well and safe during this time. Please find an outline of work for the 1st class children for the week starting the 30th of March until the Friday the 3rd of April.
The children will have some of these text books at home in a hard copy. All other text books are available online as eBooks through the CJ Fallon website, free of charge.
Please click the link below to find the work to be covered by the children this week. This has also been represented in a suggested daily plan. Do your best to complete this work and to read daily with your child. We will catch up on anything necessary when we return to school.
Please tell the children that we miss them and we look forward to being reunited with them when we return to school.
With best wishes and kind regards,
Ms B Ferry & Ms R Mc Nulty
Please Click on the above link for 1st Class Week for the Week Commencing 30th March
Here is an outline of suggested work for 1st class students during the school closure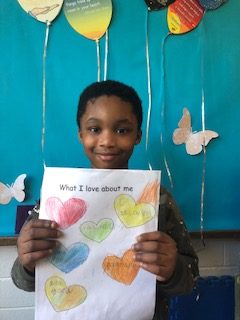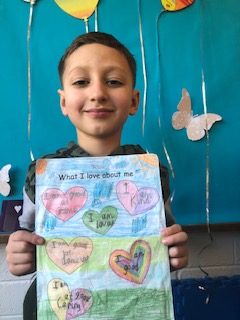 It is so important to celebrate all the wonderful things that make us who we are. Self esteem is so important so this Valentine's we focused on sending some loves to ourselves and celebrated all our wonderful traits. The children listed wonderful qualities such as; friendly, kind, thoughtful, determined, brave, gentle, funny, silly, happy, good at Irish, good at sharing, good at sports etc as some of the things that they love about themselves. Well done you lovely lot!
Fluffy Paint SnowmenFirst class thoroughly enjoying their Gymnastic sessions with Citadel Gymnastics coaches.
1st Class have been developing their Comprehension Skills through "Building Bridges of Understanding".
We have been busy taking part in "Literacy Lift Off". We are having so much fun learning as we improve our reading and writing.
1st Class created some lovely paintings inspired by the books we have been reading. "The Little Red Hen", "Click, Clack, Moo, Cows That Type" and "Giraffe's Can't Dance".
Halloween in Ms Ferry's Class!
Learning our Phonics using the I-Pads
Making 2D Shapes using lollipop sticks
We went on a bug hunt. We used pooters to look carefully at the mini-beasts we found.