5th class work – Ms Collins and Mrs Maguire – 27/03/2020
Hi boys and girls, we miss you all and hope you are all keeping safe and well. Unfortunately we will not be returning to school next week but hopefully we will see you all soon.
Here is some suggested work for next week.
All 5th class workbooks are available on the CJ Fallon Website. Visit www.cjfallon.ie, click 'Student Resources', then filter to the title you require, making sure 'Online Book' is selected under 'Resources'.
English
CJ Fallon – Above the clouds
–  Read the story : Mahmoud the Refugee pg 203- 209
–  Written activities: A- G pg 210 – 211
–  Free writing: Write some stories of your own
Poety
Have fun writing some poetry on the theme of Easter e.g.Write an acrostic poem with the word EASTER
Spellbound – week 26
– Learn spellings
– Exercises 1,3,5
– One box of sentences per day
Continue on with Novel at own pace
– Character profile
– Chapter summary
– Make predictions (what will happen in the next chapter etc.)
– Book report (summerising the story in your own words)
Keep reading. Read a few pages of a book everyday. Write a book report on any books that you have read and we will discuss these books when we return to school.
Useful websites for reading:
https://www.worldofdavidwalliams.com/elevenses/
 Maths
Master your Maths
– Week 26
Monday – Thursday. Complete Friday test
Busy at maths
– Chapter 28 : The circle pg 148, 149, 150, 151
If children find this chapter too difficult they can try 'A quick look back' on pages 27,50,93 & 119 which is revision of all topics covered so far in the 5th class Maths curriculum.
Revise multiplication and division tables
 Useful Maths websites:
Gaeilge (Folens online)
Go to Folensonline.ie and click register – select teacher – fill in a username, e-mail and password – for Roll No. use the code Prim20
 Abair liom
Clann Lir
– Read pages 130 – 131
– Exercise A: answer the 9 questions on page 131
We understand that Irish is a very difficult subject and so children are under no obligation to complete the activities from Abair Liom if they are having great difficulty. An alternative could be logging on to the Twinkl website and clicking on 5th/6th class gaeilge. Children could revise vocabulary associated with the different themes e.g. Mé Féin, Caitheamh Aimsire etc.
 SESE
 History
 – Project on World war I /World war II / The troubles
Research ONE of the following topics and complete either a written or digital project on the selected topic.
Useful websites
https://www.natgeokids.com/ie/discover/history
https://www.youtube.com/ – kidsconnect
Geography and Science
– The Rainforest
Using the websites provided, conduct research on some aspect of the rainforest.
Write a report on some aspect of the Rainforest that interests you e.g. animals of the rainforest, the different layers of the rainforest ect. 
 Useful websites
https://www.ducksters.com/science/ecosystems/rainforest_biome.
http://www.sciencekids.co.nz/sciencefacts/earth/rainforests.
https://kids.nationalgeographic.com/
 Science experiments:
http://www.sciencefun.org/kidszone/experiments/
http://www.sciencekids.co.nz/experiments.html
https://sciencebob.com/category/experiments/ 
PE
At least 30 minutes of physical activity a day.
– search The body Coach 5 minute moves kids workout
– search 'Frozen A Cosmic Kids Yoga Adventure'
– search 'Just DanceKids'
Music
The History of Music: the 20th century
Using twinkl research and write a brief report on your favourite style of music from the 20th century e.g. Rock and Roll, Jazz, Indie etc.
Website www.twinkl.ie/the-history-of-music-musical-styles
English Work and Activities for Mrs. Cannon's/Ms. McTaggart's English Class:
(This work is for the children who work on Spellbound 3, Wordwise 3 and Ready to Go!)
Ask for help at home with any of these activities that you may find a little hard to do on your own.  Just try your best!
English Spelling:
Put these words from your Spellboundin interesting sentences of your own:
chapter, stable, saddle, magic, banana, packet, internet, angry, market, carpet.
Learn 2 spellings each day and see if you can write all 10 at the end of the week.
English Reading:
Keep up your reading.  Read a little every day or read a story for your brother/sister at home.
If you click onto this website https://bit.ly/AudioElevenses you will hear David Walliams reading his stories.  Pick the story you liked the best and tell us why in your own words. Or here's another website with eBooks with lots of choice. https://www.oxfordowl.co.uk/for-school/oxford-owl-ebook-collection Choose the age/level/series of reader you would like.  You can just copy and paste this address to get started. Enjoy!
English Writing:
Write a note ora postcard or a letter to someone you haven't seen for a while (your friend, your granny/grandad).  Tell them what you have been doing over the past few weeks and what you will look forward to doing when you see them again!
We read about the Life Cycle of the Frogin class.  Look up the Life Cycle of the Butterfly and draw the pictures of each stage.  Write out a sentence to go with each picture.
Design a picture of a big Easter egg.  Plan an Easter party!  Write down a shopping list of all the things you will need for the party.  Think about what you will eat and drink.  Now design an invitation card for the party.  Don't forget to include the day, time and place of the party!
Maths Work and Activities for Mrs. Cannon's/Ms. McTaggart's Maths Classes:
Tables:
You have lots of time now to work on your tables.  This week go back over 2x and 4x.  Get somebody at home to ask you your tables.  You could write them out to help you to practice!
To practice your tables and play other maths games try this address and choose the Times Tables option:
topmarks.co.uk/maths-games/hit-the-button
Time:
Draw clock facesto show these times:
7 o' clock, 3 o' clock, 8 o' clock, 11 o' clock, ½ past 4, ½ past 6, ½ past 2, ½ past 10.
Keep a diary of your day.  Start with the time you get up and record the time for everything you do for every day of the week.  Then work out how long you are spending on each activity.  (Remember the start time for the new activity is also the finish time for the activity that came before it!) Someone at home will help you with this if you need help.
Write out the digital timesfor these times:
2pm, 6pm, 3.30am, 5.30pm, 4.30am, 11.00pm, 12.30pm, 1.30am, 10.30pm, 7.30pm
Here's a website with fun activities on TIME:          ie.ixl.com
We suggest you begin with 3rd class level activities for revision and work on from there.  Once you choose the class, select Maths Skills and then scroll down to the Time activities.
Thursday 12th March 2020
Programme of work for 5th Classes
English: Novel (3-5pages per day, Monday — Thursday)
Character Profile (Fact file on favourite character)
Chapter summary at end of each chapter
Make predictions (after chapter 3, 6, 9…)
Character Autobiography (The story of my favourite character's life)
Project: World War I/World War II/The Troubles
Music 'Mozart'; listen to his music, create a fact file/biography of his life.
Stay active!  30 minutes indoor/outdoor activity per day.
Revise all Times Tables
Twinkl contains a huge array of PowerPoint presentations and worksheets on many different topics.  The children can research and explore as much as they like.
The novel activities are merely guidelines; this work can be completed in English copies.
History projects can be completed in any medium the children choose (on chart paper or in digital form).
Stay safe and see you soon!
Mrs Maguire and Ms Collins
A selection of photos from Mrs. Maguire's 5th class
5th Class conducting an 'eggsperiment' during Science Week!
5th Class helping Senior Infants create books for World Book Day 2020
                                            5th Classes Adventure Begins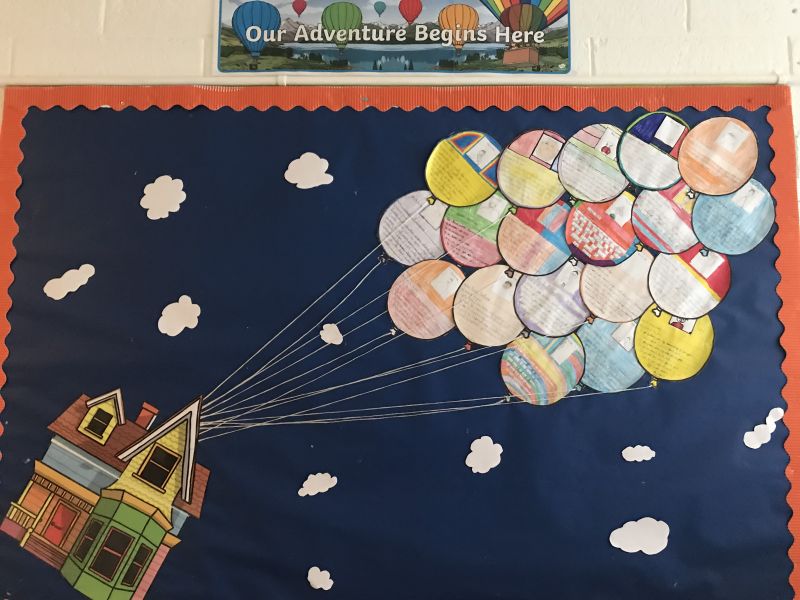 Experiments in 5th class during science week 
                                    5th Class project on Nelson Mandela
WOW WORK – Acrostic poems based on the famine
5th class enjoyed learning all about the Famine and loved reading the novel 'Under the Hawthorn Tree'