Farewell 6th Class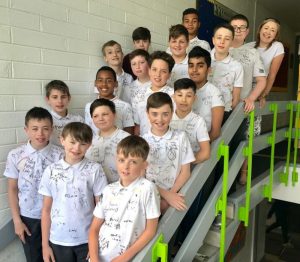 Thank you to Justin's Mum for the delicious treats to celebrate the end of Primary School.
School Tour 2019
Planting in the school garden withMrs Cannon
The Old Foundry
Peace IV Celebration Day
Regional Cultural Centre – 31/5/19
Sharing Knowledge
Second Class visited us this afternoon and we taught them what we have learned about circuits and electricity. We explained, demonstrated and then helped the younger pupils make their own circuits.
Repak Recycling Competition
Our class competed in a competition and were lucky enough to be among five winning entries nationwide. We won €1000 to be spent in a Repak retailer of our choice. Together we decided that we would like to buy cooperative board games to play during Golden Times. We compiled a wishlist and are looking forward to playing together in the coming weeks. We also intend to purchase footballs, LEGO and art materials.
Peace IV
We have had two more fun- filled and educational days with our friends from Ballyraine NS and Letterkenny Educate Together NS. We spent a day exploring the woods at Ramelton. We used the photography skills that Clive taught us taking a selection of photos in the woods. Last week, we spent a day in Educate Together. We enjoyed Samba drumming, dance workshops and LEGO building.
STEM Bucket Tower
we were challenged to build a Bucket Tower that could hold as many marbles as possible. The bucket had to be off the ground and be able to rotate. We were given straws, masking tape, string and a cup. We used our engineering skills to evaluate and improve on our designs.
Haiku
Haiku is a form of Japanese poetry. The syllables in each of the three lines are counted. The pattern is 5-7-5. Take a look at some of our Haikus.
CONFIRMATION 2019
Congratulations to the pupils in 6th Class who made their Confirmation in a reverent and memorable ceremony last Saturday. Thanks to the school choir. Their beautiful singing enhanced the ceremony. All of the boys took part and both teachers are immensely proud. We enjoyed a celebration together in Arena 7 today.
Rizzi Skylines
Internet Safety
On February 5th, we discussed responsible use of the internet and the benefits and potential dangers of the internet. The pupils learned to zip it, block it and flag it. They worked on posters promoting online safety. Please see a sample below.
Report Writing Genre
This month we are learning to write reports. We have learned how to plan,  research and structure a good report. The pupils chose a topic and used the school laptops to research it. Try then structured a report under various sub- headings.
 Mini Projects on The Great Famine
Happy Chinese New Year
5th February 2019 – Year of the Pig
Cookery Class
Our budding young chefs have been cooking with Mrs Kelly every week.
PHOTOGRAPHY LESSON
Today we welcomed Clive Wasson to our class. He gave us insight into his work as a photographer. He shared tips on taking good photos. We then used the school tablets to photograph natural objects. We look forward to using our new found skills on our next Peace IV outing.
PEACE IV
Fifth and sixth classes will be taking part in a very special project with pupils from Ballyraine NS and Letterkenny Educate Together. We began with an ice beaker day in the Aura. The pupils enjoyed a variety of Sports and Fitness activities and got to know some pupils from the other schools.
Happy Christmas 🎄
Mrs Dunleavy, Mrs Cannon and Mrs Fisher would like to wish all the boys and their families a Happy Christmas. We  are very proud of all the boys this term.
Scratch Coding
The boys have begun coding using Scratch. Coding develops the pupils problem solving skills and creative thinking. Many thanks to Liam, Conall, Max and J.J. who shared their expertise with the class. We look forward to many exciting projects in the New Year.
 
Christmas Cookies
Our bakers this week baked Christmas cookies to share with the class. Thank you to Mrs Kelly and the boys.
Exploring Electrical Circuits
Scoil Cholmcille is under Elf Surveillance
A Blast from the Past
Look at what we found! A lovely bunch of Junior Infants in 2011 with their teacher 😄Who do you recognise??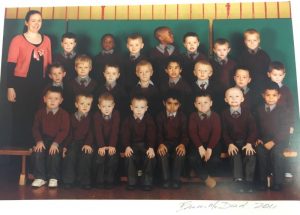 The Season of Advent
Today the boys were introduced to the Advent Wreath as we begin our preparation for the Christmas season. We learned the significance of the wreath and of each of the candles.
Wise Old Owl
Our Visual Arts programme for the month of November was based on the theme of owls. We explored owls through the medium of clay, paint and we drew our own owls. Some examples of our work are included below.
Cookery Class
Today the boys cooked Shepherds Pie with Mrs Kelly. What a perfect warming meal on a stormy day.
Rainbow in a Jar
We investigated the density of various liquids with our Rainbow in a Jar experiment.
Clever Cookies
This weeks chefs baked chocolate chip cookies with Mrs Kelly.
Science Week 2018
We worked in groups to make parachutes for our army men using a limited store of materials. We tested the aerodynamics and made revisions to our designs.
French Toast
We were back to business in the Scoil Cholmcille kitchen today. Mrs Kelly taught the boys to make French toast served with yoghurt and fresh fruit.
Halloween Safety
We were pleased to welcome a Garda to our school on Wednesday morning. She spoke to the pupils in 5th and 6th Class and reminded them about the importance of staying safe during Halloween. She offered valuable information and advice.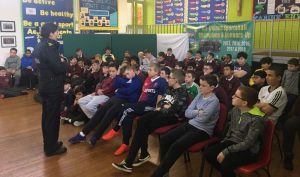 Cinema Trip
We enjoyed seeing JK Rowling's words come to life on the big screen.
Maths Week 2018
We have been studying lines and angles during Maths Week.  We also used the school laptops to play educational games to enhance our understanding of the topic.
You can't make an omelette without breaking eggs
Presidential Election
In preparation for the Presidential Election on Friday 26th October, we are learning about the former presidents of Ireland and exploring the role of the president.
Happy Halloween
Writing Genres – Explanation Writing
We have been learning how to write a good explanation. We practiced using templates and then we researched a question of our own on the school laptops and presented our findings as an explanation piece.
Sing Out Loud 🎼🎼
The Celts
We learned about the Iron Age Celts in History. We wrote our names inOgham. We imagined a day in the life of a Celtic warrior and we wrote diary entries. Finally, we constructed a village of Celtic roundhouses.
Harry Potter
We have been listening to Harry Potter and the Philosopher's Stone by JK Rowling. The pupils have been really enjoying exploring the magical world of Hogwarts. Look at our cool classroom door.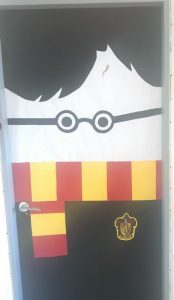 The Scoil Cholmcille Cookery Class
We are delighted to have Mrs Kelly back in Scoil Cholmcille to cook with our 6th Classes. Each of the boys will be given the opportunity to cook over the course the year.  The first group baked scones this morning and they were delicious. I hope the boys share their skills at home 😄.
Army Man Launchers
We used our engineering and teamwork skills to design a launcher for our army man using a small selection of materials. We had a plastic cup, 4 lollipop sticks, string, two elastic bands and tape. We had some excellent designs. We then tried to improve on our designs to improve distance.
The Art of Vincent Van Gogh
Making a Pulley System
The pupils used their understanding of forces to design a simple pulley system. We lifted a pencil case and a pile of books. Then we designed a basket system to hoist a full basket of marbles. We tested our designs and concluded that balancing the basket was essential. We are the engineers of the future!
Earth Science
We learned about the four layers of the earth and we represented what we learned  on paper plates.